Staff Profile: Ed Gallagher, VP of Operations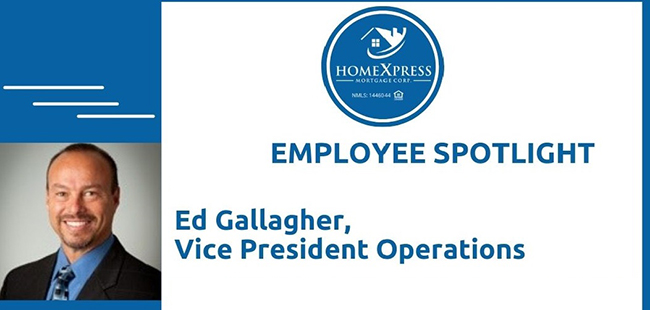 Meet Ed Gallagher, Vice President of Operations. A graduate of the University of Southeastern Louisiana, Ed originally intended to begin his career in consumer finance. However, luck brought him into the mortgage industry. With over two decades of experience, Ed builds relationships with customers that keep them coming back. With experience that spans many industry changes, Ed never forgets his early days. Keeping these memories close allows Ed to build relationships across the entire organization. No matter their experience in the field, Ed is able to build alliances that ultimately benefit our broker partners.
Ed is an excellent example of an individual who embraces HomeXpress Mortgage values. Not only has he been with the company for many years, he also strives to be a great example to others at HomeXpress Mortgage. His personal mottos are "No one is bigger than the team" and "Everyone deserves a champion!" On the Operations team, Ed is both the champion and an integral member of a busy team. As a leader, Ed enjoys being able to trust his fearless teammates to meet challenges head on in the name of helping our customers. Broker partners enjoy his congenial style and his commitment to excellence. A lifelong student, Ed sincerely believes in paying it forward by mentoring the next generation of leaders within the company. This perspective has been invaluable as HomeXpress has continued its rapid growth. Always the biggest smile in the room, Ed is one of the skilled and knowledgeable individuals that our broker partners trust to fund more loans with Speed, Ease, and Convenience.