How Investors benefit from DSCR Loans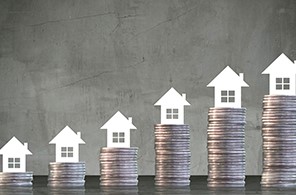 We're in the middle of a rental boom. Fortune.com indicated in December of 2021 that rent prices jumped an average of 11.6% on one-bedroom units this year, and two-bedroom units jumped by 13.6% So naturally, this rise in rental fees suggests investors will grow their portfolios with new rental properties.
However, real estate investors have limited options when applying for a mortgage. Conventional underwriting guidelines are relatively narrow with respect to showing the ability to repay a loan. For instance, investors who write off business expenses could show poorly when only looking at documents such as taxes. How can you help these borrowers? Using property rents to qualify for a loan under DSCR underwriting can be the difference between normally passing on credit-worthy borrowers or helping them with their investment goals.
Conventional Loan programs for Investors
Investors have a handful of conventional loan options today, yet many of these options are imperfect solutions for investors. Traditional loans for investors all have one thing in common, a significant down payment. In many cases, depositing a large sum is not suitable for investors who look to leveraging as their strategy.
Typical Conventional Loan Qualifiers
700+ FICO score
20% down payment
Max loan amount of $822,375
Tax returns required
Pay stubs, W-2s, or other proof of income
Bank statements and additional assets
Gift letters
Renting history
InvestorX Program
The HomeXpress Mortgage InvestorX program was created specifically for investors. This program is ideal for any type of non-owner-occupied property, from short-term Airbnb/VRBO and condo rentals to long-term lease agreements. The HomeXpress DSCR program couples competitive rates with minimal qualification requirements. Limited requirements are used to determine the ability to repay a DSCR loan, such as housing history on the subject property and the investor's primary residence.
InvestorX is a wise Non-QM investment loan for the following reasons:
InvestorX Program
700+ FICO Score
Limited qualification requirements
Property Types
1-4 units
Condominium
Townhouse
Duplex
Why Choose HomeXpress Mortgage for your next DSCR loan
HomeXpress Mortgage is a leader in the Non-QM loan space. We have earned a reputation for speed, ease, and convenience that is evident in every part of the lending process, from submission through funding. HomeXpress provides a great overall broker experience; streamlining submissions through our cutting-edge broker portal, X-Connect. Our proprietary technology allows a broker to submit loan scenarios to help determine the best way to qualify their borrower, submit documents securely and calculate income at the touch of a button. Milestones are tracked and visible throughout the loan process.
As competition grows in the mortgage industry, more brokers are seeking new ways to attract borrowers like property investors. If you have questions and would like to talk to an experienced and knowledgeable Account Executive, give our team a call at (855) 598-1430 or submit a loan scenario today.