How Fluctuating Mortgage Rates Affect the Housing Market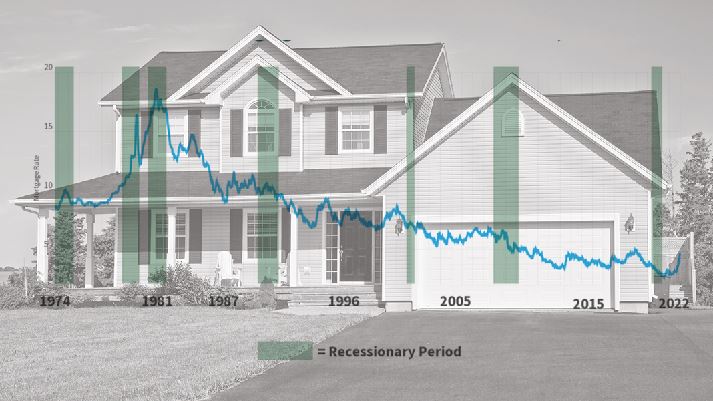 In 2020, interest rates were at an all-time low. This made it possible for borrowers to buy larger homes or refinance their current property at a lower rate. However, all-time low-interest rates could not last forever. By January 2022, interest rates began to increase, limiting borrowers' purchasing power and eroding the refinance market.
Mortgage and refinance rates have fluctuated throughout the years, for better or worse, yet borrowers continue to pursue the American dream of homeownership.
Historical Mortgage Rates:1971 to 2022
Let's recap the last 50 years of mortgage rates to understand how they have affected today's market according to Lendingtree data.
1970s
In 1971, Freddie Mac started surveying mortgage lenders and mortgage rates. The 30-year fixed-rate mortgages hovered around 7.73%.
1980s
In 1981, inflation rose to 9.5%. The Federal Reserve counteracted inflation by increasing the federal funds rate. This pushed mortgage rates to an all-time high of 18% in 1981. Mortgage rates would remain at 18% until the 1990s.
1990s
In the 1990s, the strong economy had consistent job creation, low inflation, and rising productivity. This created an economic boom, which caused inflation and mortgage rates to drop, which stayed between 7% and 9% for the entire decade.
2000s
Mortgage rates in the 2000s were affected by the overvalued stock market and the looming recession due in part to the collapse of the dot com bubble and the housing market crash. As a result, rates dropped to below 6% by 2003 and remained in the 5% range for the rest of the decade.
2010s
In 2010, the job market began to emerge from the most severe downturn since the Great Depression. U.S. employment was up, which improved wages resulting in mortgage rates below 5%.
2020s
By December 2020, due to Covid-19, mortgage rates plummeted to a new historical low of 2.68%. Rates spent most of 2021 between 2.70% and 3.10%.
2022
In March 2022, the Consumer Price Index, which gauges consumer inflation, increased by 8.5% — the most significant 12-month spike since 1981. Due to these changes, mortgage rates rose steadily to 5.30% by the end of May.
The Stability of Homeownership
As outlined above, for the past 50 years, mortgage rates have fluctuated dramatically, yet borrowers continued to buy homes despite economic downturns. Why? Homeownership provides comfort and stability to families. Also, a home is a growing financial asset in which borrowers can pull equity in times of need to deal with life events or to create cash reserves.
Why HomeXpress has the Highest Closing Ratio
Entrepreneurs and borrowers with high DTI or credit blemishes are often excluded from obtaining a conventional mortgage. Yet, in many ways, these borrowers are strong candidates for homeownership.
HomeXpress specializes in Non-QM loans, which are excellent solutions for borrowers who are unable to qualify for a mortgage under traditional underwriting guidelines.
Our flexible lending practices allow us to look beyond conventional guidelines. For example, our team of manual underwriters have the experience and know-how to review alternative documents and look at borrowers from a different perspective versus government agencies.
Work With Experts in Non-QM Loans
HomeXpress has been committed to serving the Non-QM market since its inception in 2015, and we fully understand this business. Contact one of our experienced and knowledgeable Account Executives at (855) 598-1430 to learn how HomeXpress can help you grow your Non-QM pipeline.